New China solar panel factory
Huizhou Wisdom Power Technology Co., Ltd provides new products and more diversified range of products to meet the needs of more customers: monocrystalline and polycrystalline silicon solar panel products.

Due to the need of the development of production, and factory signed a cooperation agreement, adding some advanced equipment and machinery, went into operation in support of the local government and the leadership, the current capacity of 50,000 megawatts per month. All employees in the company's efforts, the company steady development, continue to provide customers continue to provide quality products / improve the pre-sale, service, and international competitive prices. We welcome in environmental protection and energy conservation in all walks of life to discuss, promote clean energy to protect our environment.

Our solar product:
5 years material and workmanship guarantee
95% power output guarantee for 5 years
90% power output guarantee for 10 years
80% power output guarantee for 25 years


The following are the factory production process and equipment: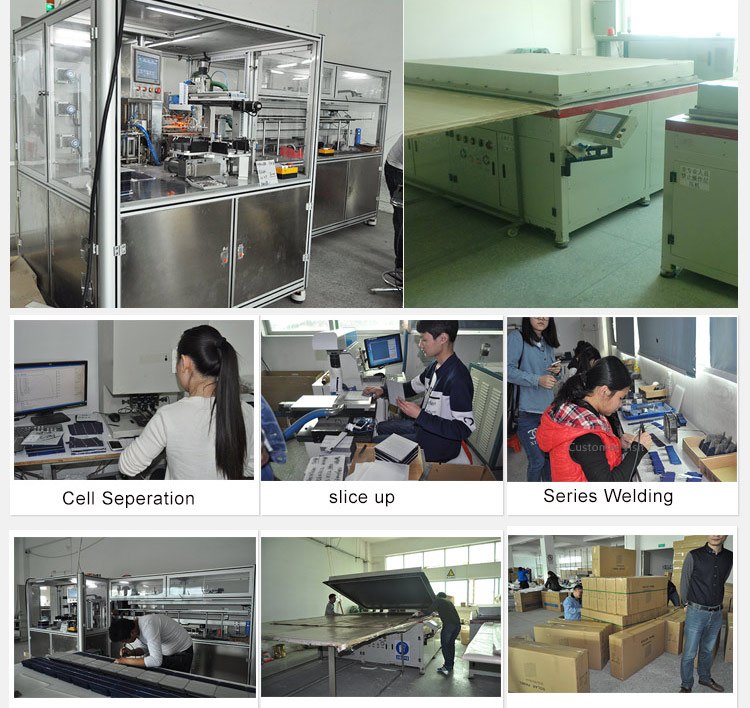 Currently:Solar panels / solar modules : monocrystalline solar panels / crystalline solar pales for on-grid and off-grid residential and commercial systems.

product application:Solar garden light,Mini-household lighting system,Solar street lamp,Solar outdoor advertising.